New Website – SEO Checklist
SEO checklist for new sites that aren't ranking.
So you have created a new website', and you ask yourself;
'I want to make sure that I'm doing all the right things in the right order',
'I've got everything set up and my website is still not ranking well',
'What are the things that I should be doing, maybe some things that I shouldn't be doing?'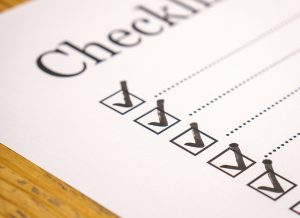 SEO Checklist #1 Accessibility:
Having created your new site, launched it and have put a process together to set things up for business success your thoughts turn towards what is your first course of SEO action?
First, 'Accessibility', both users and search engines need to be able to reach all of the pages, all the content that you've created on your website in easy ways, you need to make sure you don't have any sort of dumb mistakes that can that can harm your SEO.
These SEO Mistakes are things like;
– 404s, 500 errors, or 302s instead of 300 ones,
– Duplicate content, – Missing title tags
– Thin content where there's not much material on the page.
A good tool to use for this is Google Search Console (formerly Google Webmaster Tools) which is completely free to use, register at google.com/webmasters.
Another is to obtain an SEO Performance and SEO Score Report, which will identify these issues and recommend ways to fix/repair them.
SEO Checklist #2 Keyword Targeting:
It makes some sense that you would choose the right keywords to target on your website – I always say, if you are marketing 'oranges' then it is logical that you will be talking about 'oranges' on your website, by that same token you will want to make sure that you have also referenced the keywords that people are actually using to find 'oranges' i.e
– best oranges – sweetest oranges – largest oranges
– smallest oranges – imported oranges – local oranges >>> etc.
More on Keyword selection refer to our video: "Basics of Keyword Selection"
SEO Checklist #3 Content:
Having authoritative, valuable content on your Products/Services is essential in establishing you, your business and website as the go-to place for your products/services.
Content Quality and Value if you have a bunch of Visitors (potential customers) coming to this page and they think to themselves; 'this doesn't really answer my query or yeah maybe this answer is one portion of it but I wish there was more detail here,
more videos, more images, maybe a nice graphic that explains some things,
something that describes the workings or process, a data set, some references to where they got this information.
With that level quality of the content produced, you're going to do much better in the search engines. Search engines have got some really sophisticated algorithms that look at true quality and value. Google has gotten so much better about putting really good stuff in results.
SEO Checklist #4 Design Quality:
The 'User Experience' and usability this is tough unless you utilise a professional designer or go with a very simple basic design that is very user-friendly.
Survey your friends, survey people in your industry, survey people in your company, survey people in your ecosystem – that they go, 'Yeah this looks really good', 'I'm very happy to sign up/order/buy/call/email'.
Maybe the only giving the site a 6 out of 10 in terms of beauty, but an 8 out of 10 in terms of usability. They find the content on the site informative and valuable, it is easy to find 'what' they are seeking.
If not, you're not going to get many more customers, people are just going to be frustrated by the website 'experience'.
SEO Checklist #5 Be Social:
Social and SEO are coming together like never before, social signals help search engines better understand or better rank things.
Consider having at least;
– Facebook, – Twitter,
– Linkedin and – Google+
Have the pages (Social) set up so that Visitors have the same experience across all your social platforms;
– Branded, – Logo, – Colour scheme,
– Same imagery – Same content
Once those social accounts are set, start sharing content that you're producing, develop and find connections through those social accounts, spending the appropriate amount of time on this depending on the value of those social connections and engagement.
SEO Checklist #6 Link Building:
Link Building this is where a lot of people get sort of on the wrong start and it's incredibly hard to recover.
Case Scenario: (email received), from someone who started a new website;
"I got these 300 links and you know now I'm now, I'm not ranking anymore, I was doing great last week, and for the first six weeks"
A quick look at the backlinks, he purchased a bunch of low quality easy to acquire links and for a new site in particular, it's so dangerous because Google is on top of this when a link profile looks really spammy and when the site does not have any trustworthy or quality signals.
That's when low-quality links can hurt a sites ranking ability.
More comprehensive information on how to Build Links refer to; Link Building Part 1
Ben Miranda
Snr. Web Strategist
Reference:
DiySEOResources: youtube.com/watch?v=OD12ZCvr0XE