5 Months GMB Accounting Client, Generates 442 Calls
Long-Term Success with CBD Accounting Practice's Google My Business (GMB) Profile
Introduction
This comprehensive case study focuses on the partnership between Havoc Digital, a digital marketing and local SEO agency, and a CBD-based accounting practice in Brisbane, Queensland.
The collaboration began in February 2019 and has continued to the present day (May 2023).
This case study is primarily centered around optimising the client's Google My Business (GMB) profile, whilst we do also focus on local SEO, PPC campaigns, and social media marketing for the client.
Client Overview
The client is an accounting practice based in Brisbane, Queensland.
They specialise in providing accounting services for small businesses and companies, including;
company tax services,
business activity statements (BAS)
bookkeeping,
business reporting,
tax advice, and
filing tax returns.
While they do offer personal tax returns, this service is limited to existing individuals within their business client portfolio.
The client primarily serves Brisbane CBD and Brisbane within a 50km radius.
Growth of Queensland and Internal Migration
To understand the context of the client's business growth, it is crucial to consider the growth of Queensland as a whole, particularly in terms of internal migration.
According to data from the Australian Bureau of Statistics (ABS), Queensland has experienced significant population growth due to internal migration in recent years.
Factors contributing to this migration include the state's favorable weather conditions and its strong economic growth, attracting individuals and businesses to relocate to Queensland.

Former Premier Sir Johannes Bjelke-Petersen's Quote
Former State Premier (1968 into the early 1980s) Sir Johannes Bjelke-Petersen once famously responded to television reporters questioning the state's economy by pointing out the numerous construction cranes in the CBD skyline.
This statement highlights the robust economic activity and development still occurring in Queensland in 2023, indicating a thriving business environment that can benefit the client's CBD accounting practice.
Client's Initial State and Growth
When Havoc Digital initially started working with the client in 2019, the owner, a senior accountant, handled the majority of the workload, from acquiring new clients to fulfilling accounting tasks, with the support of four accounting staff members.
However, over the course of the partnership, the accounting practice has experienced remarkable growth and success.
They have expanded their team to include one full-time senior accountant, five full-time junior accountants, nine accounting support officers, a financial planner, a business development officer, an office/hr manager, and two receptionists.
COVID-19 Pandemic and Adaptation to Hybrid Work Environment
The period from 2020 to 2022 presented unprecedented challenges due to the global COVID-19 pandemic and the subsequent restrictions imposed to control its spread.
Initially, these restrictions hampered the operations of the accounting practice, including limitations on in-person meetings and office occupancy.
However, the client quickly adapted to the new circumstances and implemented a hybrid work environment to ensure business continuity and continued growth.
1. Remote Work Transition
With the need to adhere to social distancing guidelines and minimise physical interactions, the client swiftly transitioned to a remote work setup.
Havoc Digital provided guidance on utilising digital collaboration tools, enabling the accounting team to seamlessly work from home while maintaining productivity and client service levels.
2. Virtual Meetings and Communication
Face-to-face meetings were replaced with virtual alternatives, Zoom video conferencing.
Havoc Digital assisted in implementing efficient communication channels to ensure smooth interactions with clients, colleagues, and stakeholders.
Regular virtual meetings were conducted to discuss strategies, address challenges, and provide updates.
3. Enhanced Digital Presence
Recognising the increased reliance on digital platforms during the pandemic, Havoc Digital prioritised enhancing the client's digital presence.
This included strengthening the client's online visibility, optimising their website for remote lead generation, and leveraging social media to connect with existing clients and attract new ones.
4. Proactive Client Support
Understanding the financial uncertainty faced by many businesses during the pandemic, the accounting practice, with guidance from Havoc Digital, proactively provided support to clients.
This included offering advice on government assistance programs, providing insights on managing marketing and business development during the crisis, and exploring alternative strategies to adapt to the changing economic landscape.
5. Agile Decision-Making
The partnership between Havoc Digital and the accounting practice fostered an agile decision-making process.
Both parties closely monitored the evolving situation, identified emerging trends, and promptly adjusted marketing strategies and tactics to align with the changing needs and expectations of clients.
Through this adaptive approach, the accounting practice was able to not only navigate the challenges posed by the pandemic but also thrive in the hybrid work environment.
The collaborative efforts between Havoc Digital and our client fostered resilience, innovation, and a commitment to delivering exceptional service, enabling the practice to continue its growth trajectory and maintain a strong market presence despite the challenging circumstances.
Lifetime Value of a New Small Business Client
To estimate the lifetime value of a new small business client, generally 5 years, let's consider the breakdown of services offered and their associated dollar values:
1. Bookkeeping on a monthly basis: $X per month
2. Quarterly Business Activity Statements (BAS) submission to the ATO: $X per BAS
3. Preparation and Reporting on Company Financials (Balance Sheet, P&L statements): $X per reporting period
4. Preparation, Reporting, and Submission of Company Tax Returns to the ATO: $X per tax return
5. General Tax Advice and Support: $X per hour
Based on the client's retention rate and the average duration of the client relationship, a conservative estimate of the lifetime value of a new small business client can be calculated by multiplying the average annual spend by the estimated client lifespan.
Promoting a Google My Business (GMB) Listing
To promote a Google My Business (GMB) listing effectively, several key steps are necessary:
1. Optimizing GMB Profile
Ensure all business information is accurate, including contact details, opening hours, website link, and business description.
2. Regularly Update Posts
Share updates, promotions, and engaging content through GMB posts to attract and inform potential customers.
3. Encourage Customer Reviews
Actively request and respond to customer reviews on the GMB listing to build credibility and trust with potential clients.
4. Add Relevant Photos
Upload high-quality images showcasing the office, team, and services to enhance the listing's visual appeal and provide a glimpse into the client's accounting practice.
5. Monitor and Respond to Queries
Regularly monitor and promptly respond to customer inquiries, questions, and reviews to demonstrate excellent customer service and engage with the target audience.
6. Monitor Insights and Analytics
Utilise GMB's built-in insights and analytics tools to understand customer behavior, track listing performance, and make data-driven decisions for further optimisation.
Google My Business (GMB) Activity (Jan 2023-May2023)
1. GMB Business Profile Interactions
Interactions are when people call, message, make bookings, ask for directions and more from your Business Profile on Google.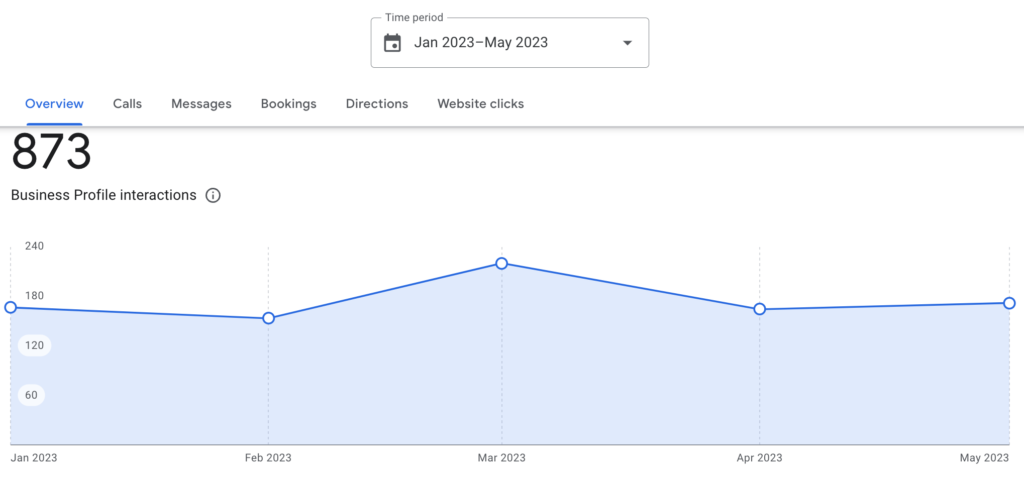 2. How people discovered the GMB profile
Shows how many people saw the GMB Business Profile on Google Search or Maps.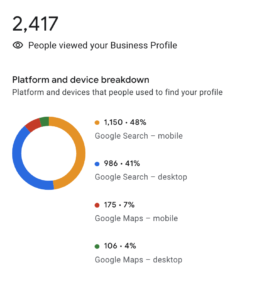 3. Calls made from the GMB profile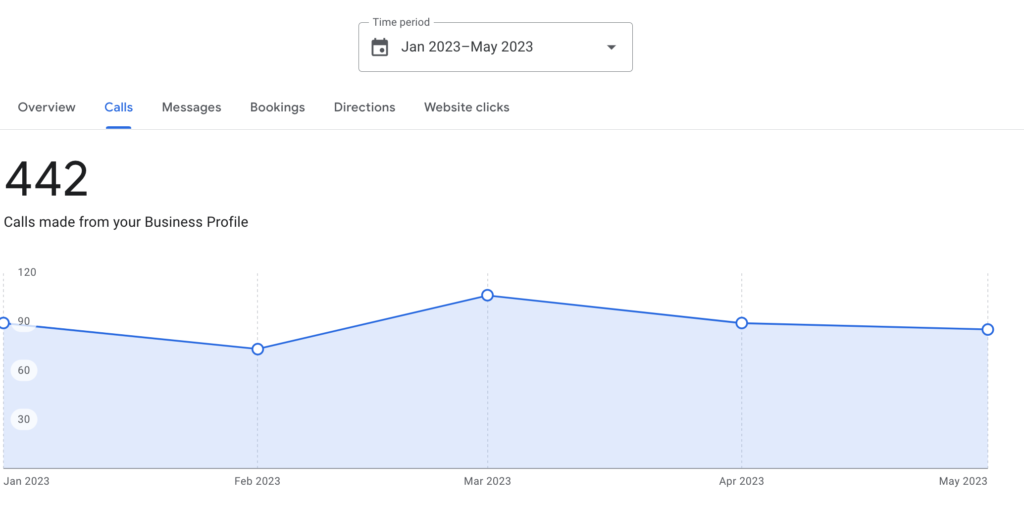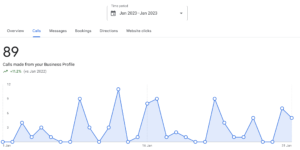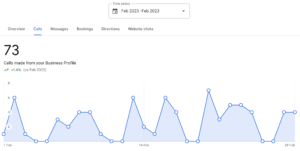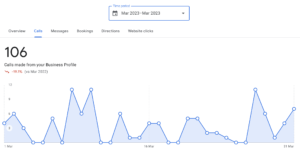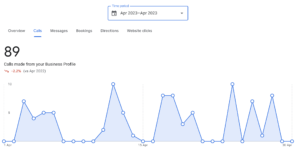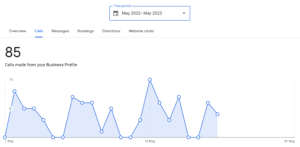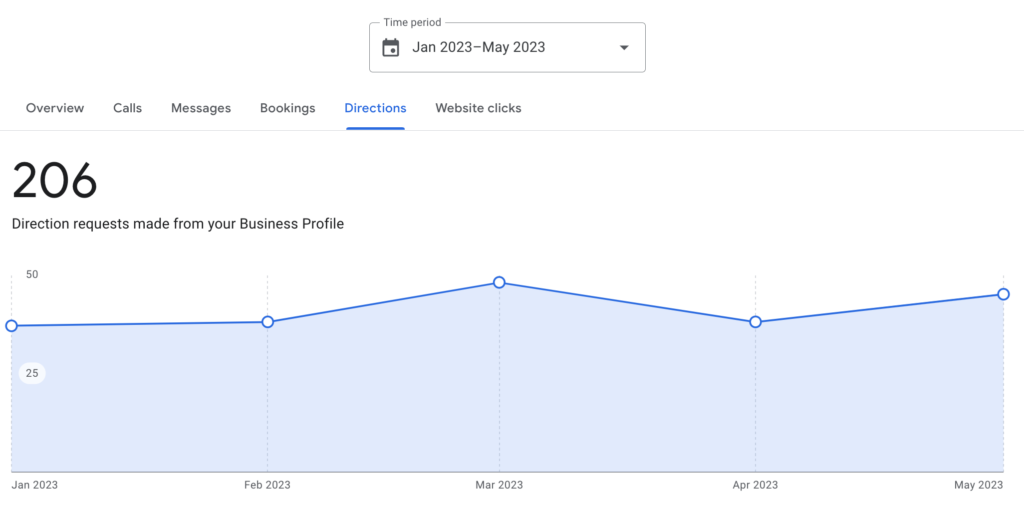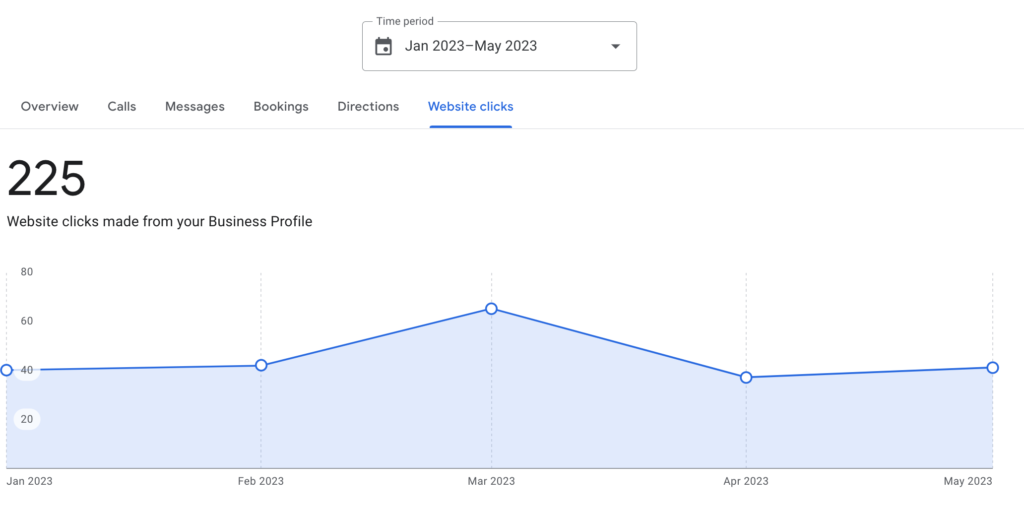 Havoc Digital's Continuing Contribution to Success and Growth
The success and growth of the accounting practice can be partially attributed to the marketing efforts undertaken by Havoc Digital.
The implementation of local SEO tactics, PPC campaigns, and social media marketing, along with the optimisation of the client's GMB profile, played a significant role in generating phone calls and in-office meetings for the practice.
Havoc Digital's expertise in digital marketing has effectively positioned the client's CBD accounting services in front of the target audience, resulting in increased brand visibility and client acquisition.
Conclusion
The partnership between Havoc Digital and the CBD accounting practice in Brisbane has resulted in substantial growth and success over the years.
By leveraging digital marketing strategies, particularly through the optimization of the client's Google My Business profile, Havoc Digital has helped the practice expand its client base, increase brand visibility, and establish itself as a leading accounting service provider in the region.
The combination of local SEO, PPC campaigns, and social media marketing has proven instrumental in generating phone calls and in-office meetings, ultimately contributing to the practice's overall growth and success.