10 Year Client Relationship – Certified Organic Fresh Produce Delivery Service
Long-Term Digital Marketing and Local SEO Success for "Certified Organic Fresh Produce" Delivery Service
Client Overview
Our long-term client, a certified organic fresh produce delivery service based on the east coast of Australia, has been operating since March 2013.
The business primarily serviced Brisbane and surrounding suburbs within an 80km radius.
They focused on delivering high-quality fresh fruit and vegetables, later expanding to include organic lamb, chicken, and dairy products.
Introduction and Initial Challenges
The client was introduced to us by their web designer in Brisbane, who recognised the need for specialised SEO work and an enhanced online presence to ensure the success of the new website upgrade.
The initial challenges identified were the complexity of the new site, which featured online ordering and tracking functionality, and the necessity for tailored SEO strategies to drive organic traffic and conversions.
Additionally, the web designer sought to deepen their understanding of SEO to better serve their own clients.
Building a Strong Relationship
Over the years, the web designer became well-versed in the SEO process and regularly referred their clients to our agency, Havoc Digital.
We highly valued this professional relationship, which evolved into a personal connection.
We were saddened to learn about the web designer's health issues and subsequent retirement from the web design sector. However, they continued to support their existing clients while gradually winding down their involvement.
Local SEO Components
Our comprehensive digital marketing strategy for the client incorporated several crucial elements:
1. On-Page SEO, "Organic + Brisbane"
We continuously updated the on-page SEO strategies to accommodate the addition of new products to the client's offerings.
This ensured that each product page was optimised for relevant keywords, metadata, and internal linking.
2. Technical SEO
Over the ten-year period, we navigated and resolved numerous challenges presented by various Google updates, including Google Panda, Google Penguin, and rolling algorithmic updates.
Our team closely monitored the website's technical health, resolving issues related to site structure, mobile-friendliness, page speed, crawlability, and indexing.
3. Link Building. "Certified Organic + Fresh Produce + Delivery + Brisbane"
We implemented a carefully curated link-building strategy to enhance the client's website authority and improve search engine rankings.
Our approach focused on acquiring high-quality, relevant backlinks from authoritative websites in the organic produce and health-conscious industries.
Budget Considerations
Given the client's business model, which operated on small profit margins, budget limitations were a significant consideration from the outset.
To accommodate this, we established a budget of less than $600 per month, which remained unchanged throughout the ten-year engagement.
Despite the budget constraints, we ensured that the level of work conducted consistently exceeded the competition in the organic produce delivery service space.
Additional Value-Added Services
As our relationship with the client grew and their trust in our expertise deepened, we offered additional services at no extra charge. These services included:
1. Creating a Google My Business Profile, Facebook Business Page, and Instagram Profile
We set up and optimised the client's profiles on various social media platforms, enhancing their online visibility and allowing for better customer engagement.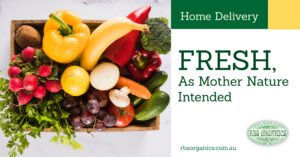 2. Branded Content Creation and Publishing
To maintain a strong online presence, we created and published branded content on a daily basis across Google My Business, Facebook, and Instagram.
This strategy fostered brand awareness, encouraged customer loyalty, and facilitated the generation of organic traffic and inquiries.
3. Social Media and Google My Business Management
We provided ongoing social media management and Google My Business optimisation services.
Our efforts included regular content posting, responding to customer reviews and inquiries, and maximising the client's visibility in local search results.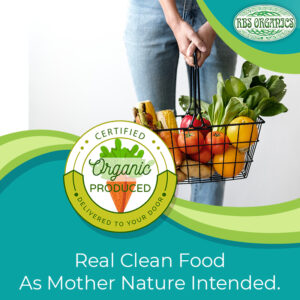 Value and Savings
Over the course of the 10-year collaboration, the added services we provided amounted to significant savings for the client.
Based on our standard pricing, the total savings exceeded $65,000.
This figure takes into account the value of the services themselves, but NOT the subsequent reach, customer calls, emails, messages, and orders generated through our digital marketing efforts!!
Local SEO Results – Certified Organic Fresh Produce Delivery Service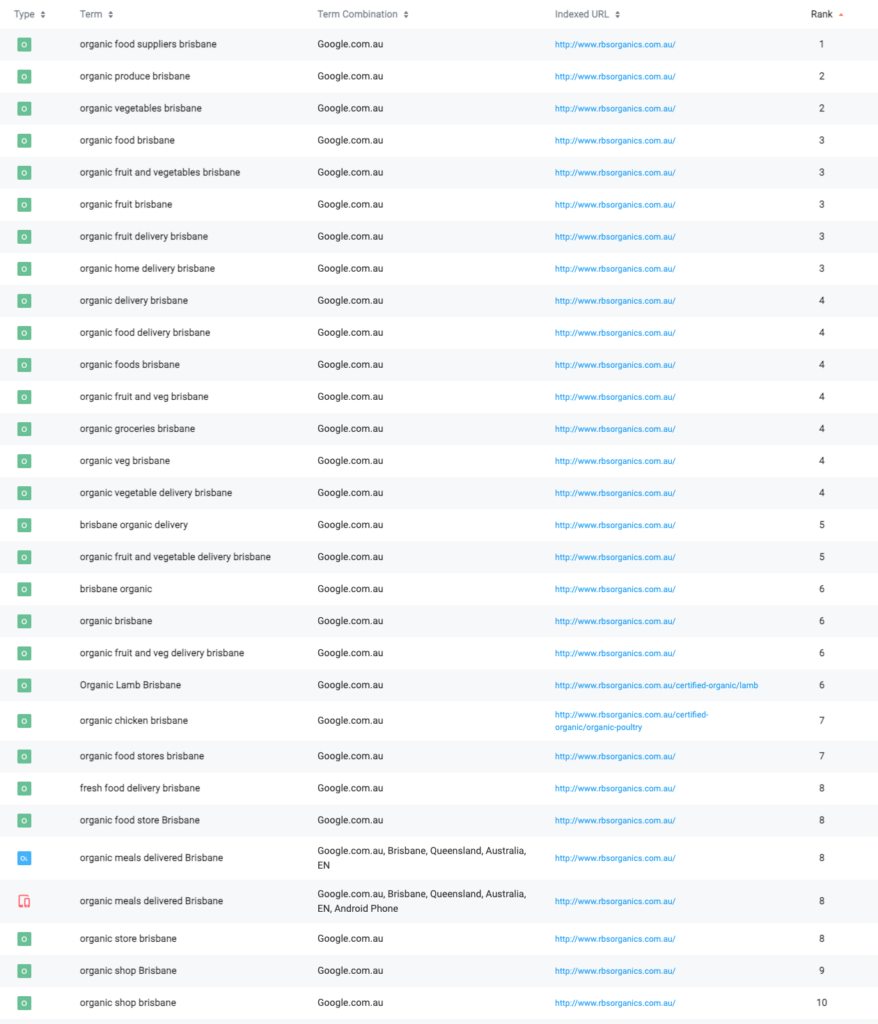 Conclusion
Working closely with our long-term client, we successfully implemented a comprehensive digital marketing and local SEO strategy for their certified organic fresh produce delivery service.
Despite budget limitations, we consistently exceeded the competition by optimising on-page SEO, resolving technical issues, and conducting effective linkbuilding campaigns.
Additionally, we provided numerous value-added services, resulting in substantial savings for the client.
Our collaboration contributed to their sustained success in the organic produce industry until their retirement in April 2023.
We value our long-term client relationships, always seeking out ways to be part of the team and add genuine value to the relationship.
"We extend our sincerest appreciation to our client and wish her continued happiness, health and well being in retirement"