10 Basic WordPress SEO Mistakes
The following 10 Basic WordPress SEO mistakes are easily rectifiable and will aid in your website being indexed and ranked in the SERP (Search Engine Result Pages).
Back in 2011, the WordPress platform represented only 13.1% of all sites on the internet, today – it represents over a quarter of all websites on the internet.
Simply put, 1 in every 4 websites are on WordPress platform. As at June 2017:
WordPress 28.2% Joomla 3.3% Drupal 2.3%
Magento 1.2% Blogger 1.0% Shopify 0.7%
– No surprise then that ours is on WordPress, https://havoc.digital
One reason for this, is that WordPress is one of the best platforms to implement On-Page SEO.
Out of the box, WordPress allows you to easily manage the SEO basics without any coding knowledge whatsoever, for example;
Permalinks
Title Tags
Headings
Optimised Content and
Mobile Optimisation
Having said that, just because these are Basic WordPress SEO Mistakes does not imply that they are totally obvious.
It should then not come as a surprise, we are certainly not surprised, when some Web Designers/Developers miss these when building WordPress websites for clients.
But we do give them a pass, since their expertise is in the Design & Software development not SEO or Online Marketing.
– I'll put my hand up and admit that I have no Design or Coding expertise, that is why I leave it to the professionals 🙂
Minimising and avoiding these WordPress SEO mistakes will then enhance your online search visibility.
WordPress SEO Mistake #1
1. Forgetting to Set Your Time Zone
We work with clients in Australia, USA, UK.. Asia and we produce Content for publishing and therefore need to have it scheduled to publish in their time zone so that their audience views it at the right time.
Obviously then having the correct time zone on a WordPress site is required.
An easy option to be overlooked, Settings > General

2. You Did Not Add Open Graph Social Meta Data
You want as many people as possible to click on your content, like and share it.
It may not help in pushing your target keywords up the rankings, but it is a signal to most search engines as to the overall genuine nature of a business website.
Utilising SEO plugin like Yoast SEO is very straight forward to install and enable.
– If you do not already have the FREE version of the Yoast plugin, then I strongly recommend that you do.
3. Not Setting Goals in Google Analytics (GA)
This mistake probably needs to be two mistakes, as the other mistake is not having Google Analytics (GA) in the first place!
Google Analytics is a free piece of software which enables you to measure and track what is happening on your website.
– GA at present is free but for how long? – I do have a view on this, which I will get around to publishing one day.
Think of it as a road map of where you have been so as to guide you on your journey moving forward.
So, setting a Goal in GA (Google Analytics) whether it is measuring the millions of Visitors to your site, or how the trillion dollar Sales are made and what they did whilst on your site can be set as a goal.
Setting GA to measure for example how many people have landed on a specific page, will clearly evidence whether or not your campaign strategy is working.

4. Failing to Set Permalinks to Post Names
Having User friendly URL will go a long way to attracting the click and Google to acknowledge your work.
It is a set and forget process, so when you create a page or post the URL address will include such things as your Keywords, Post Name and or Date.
Settings > Permalinks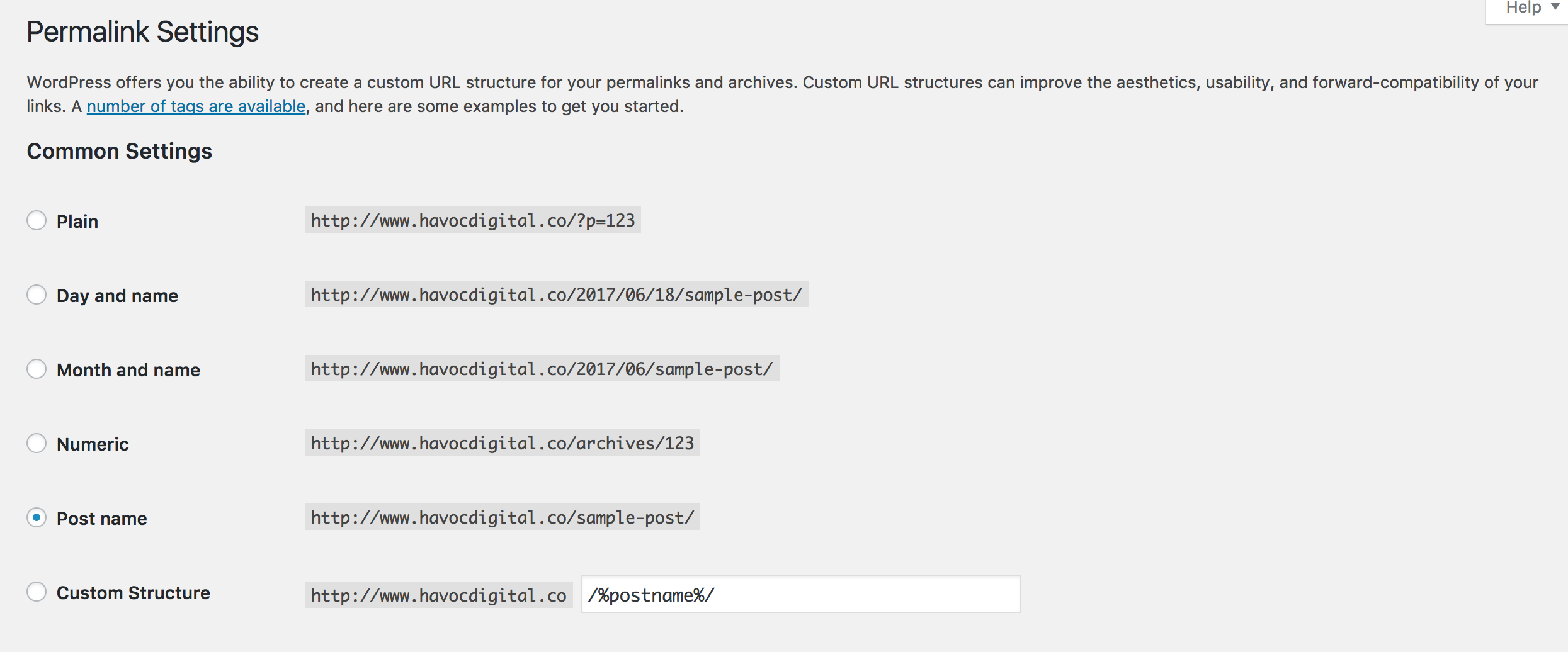 5. Not Creating and Submitting an XML Sitemap
As I have stated to many clients, your website is like a book and a book without an Index would be a mistake.
An XML Sitemap is an index of your website, listing every page, piece of media and post.
Submitting your XML Sitemap to Google will enable the search engine to know where to go on your site and makes sure that all your content is crawled and thus indexed.
Using the Yoast SEO Plugin, is just a matter of enabling the feature. SEO > XML Sitemaps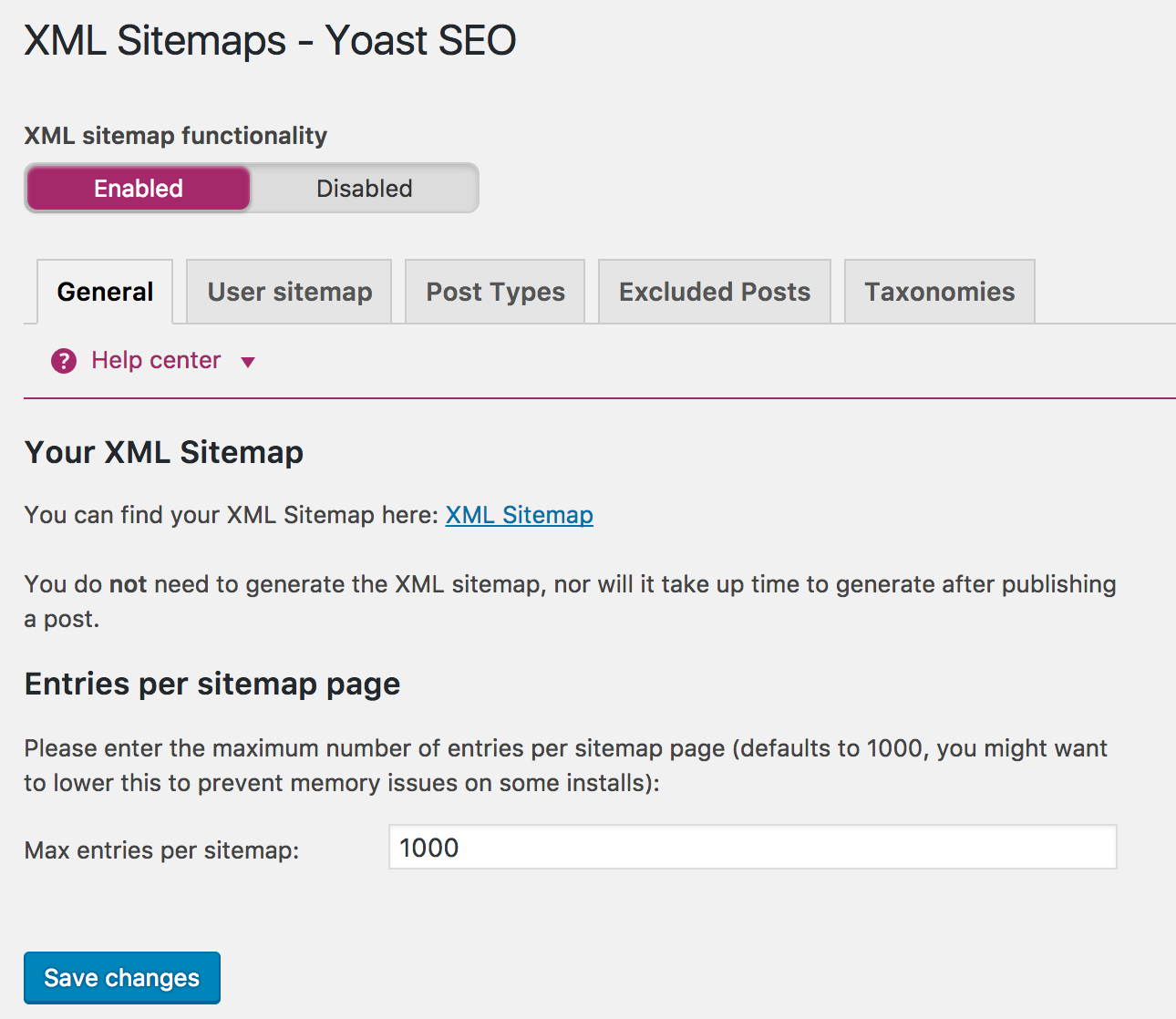 Once you have enabled the XML Sitemap it can then be submitted to Google via your Google Search Console (formerly known as Google Webmaster Tools).
6. Not Publishing Content Regularly
Google is seeking to find those websites that meet their audience's needs therefore having authority on the subject matter and are popular.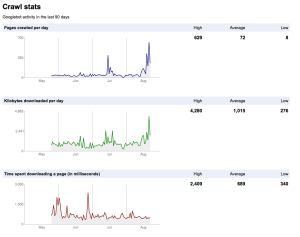 Having a static website (old school brochure site) is not going to be that appealing to your audience beyond their first visit.
By regularly adding content you not only give your audience reason to return to your website it also induces Google to visit your site more often.
Publishing content does not need to be a 2,000 word piece of scholarly work or an award winning video.
It can be as simple as a set of photo's taken in situ – be it delivering some work to the client or work in progress.
– Watching a Pergola being built or the process of branding promotional merchandise is of interest to the target audience.
Even pictures of a staff birthday party is worthy of publishing, giving your audience that personal glimpse into your business.
7. Fail to UPDATE Content on a Regular Basis
Just because you published some content a few years back does not necessarily make it out of date or irrelevant to your audience.
In situations where visitors come across this content, they may think that it is out of date and irrelevant, as will Google, so it makes good sense to re-visit older content and update it.
Check your pages with low time spent on the page and high bounce rates (refer to your Google Analytics), as this could be indicators of out dated and low perceived value content.
8. You Did Not link to Your Homepage from the Footer
So simple yet so easy to overlook… oh wait we have not done it ourselves… for a reason.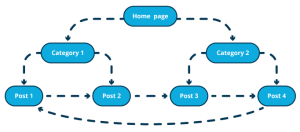 – You know the adage, 'do as we say, not what we do' 😉
It is by no means a significant metric in boosting your rankings but it does have auxiliary benefits with;
9. You fail to Check for Broken Links
Just as in real life, good housekeeping is a wise practice.
As is the yearly spring cleaning of the office, workshop, factory or workspace, so is the requirement to check your website for any broken links (to pages).
Google will also appreciate it.
To simplify the issue, install Broken Link Checker and once enabled, you will receive email notifications when any broken links are detected.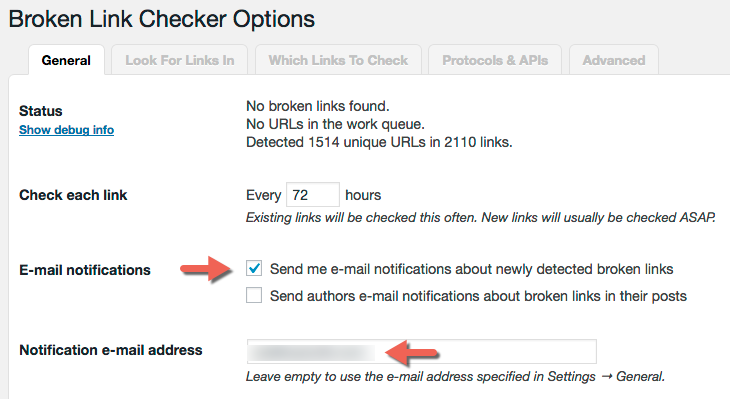 10. Not Implementing Schema Markup
In over 99% of all new client website audits, we find that they either have no Schema Markup or totally ineffectual markup data.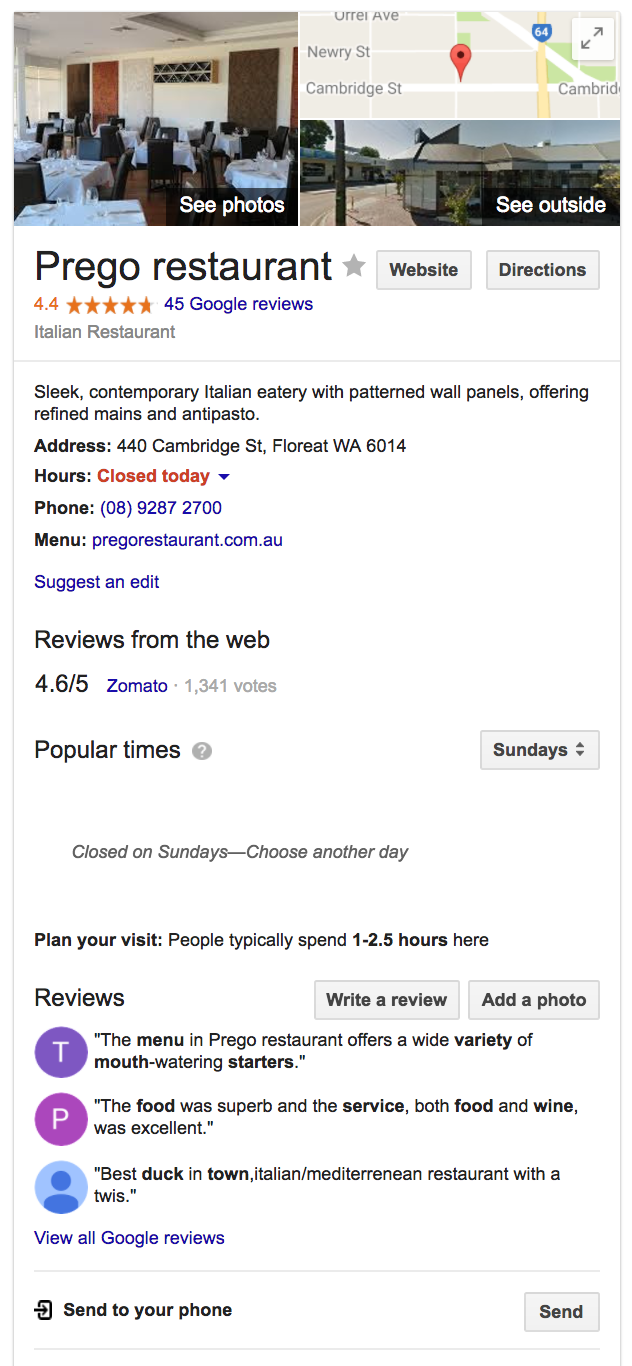 Schema Markup data allows you to influence what Google displays about your site and business;
The Description of your business, the Name, Address, Telephone, Opening hours to whether you offer on site Parking.
Reviews and 5 Star ratings
Product Descriptions
Videos and even
Recipes
This will improve the click through rate of people searching for your product and services.
If your website is not performing as you would like it to be then check to see if these basics have been taken care of.
One way of determining the SEO Health of your WordPress site is to take advantage of our FREE Website Health & SEO Score Report.
– It comes with clear and actionable instructions, plus we will even talk you through it 🙂
For some additional reading on SEO, refer to my article – 24 On-Page SEO Tips for Small Business Owners

Footnote: this post has been compiled from the following sources.
searchenginejournal.com/wordpress-seo-mistakes
w3techs.com/technologies/history_overview/content_management/all/y
searchenginejournal.com/makes-wordpress-best-platform-seo/133643/
wordpress.org/plugins/wordpress-seo/
searchenginejournal.com/google-analytics-reports-holiday/179077/
Some Screenshots taken by Joe Howard, taken May 2017
searchenginejournal.com/essential-guide-internal-content-linking/185394/
searchenginejournal.com/single-best-anchor-text-seo-no-one-talking/184524/
wordpress.org/plugins/broken-link-checker/